Digitalization in the pharmaceutical industry
A pitch for an iterative approach.
What is the purpose of your organization?
Vetter is a family business that was founded in the 1950s starting from a pharmacy. With our products, we want to help people who are sick getting back to their health – and also provide patients worldwide with medicines of the highest quality. Concretely, we receive active ingredients and assemble them. We have specialized in difficult filling and packaging processes. Everything is manufactured in Germany. The highest quality, innovation, and yet a good price-performance ratio are absolutely central to us. We have a high sense of responsibility because our products go directly into people's bloodstreams.
Back in the 1950s, Mr. Vetter started in a backroom of his pharmacy. Over the years, we have grown into an international company with around 5,000 employees. This impressive history of origin has a strong impact on us.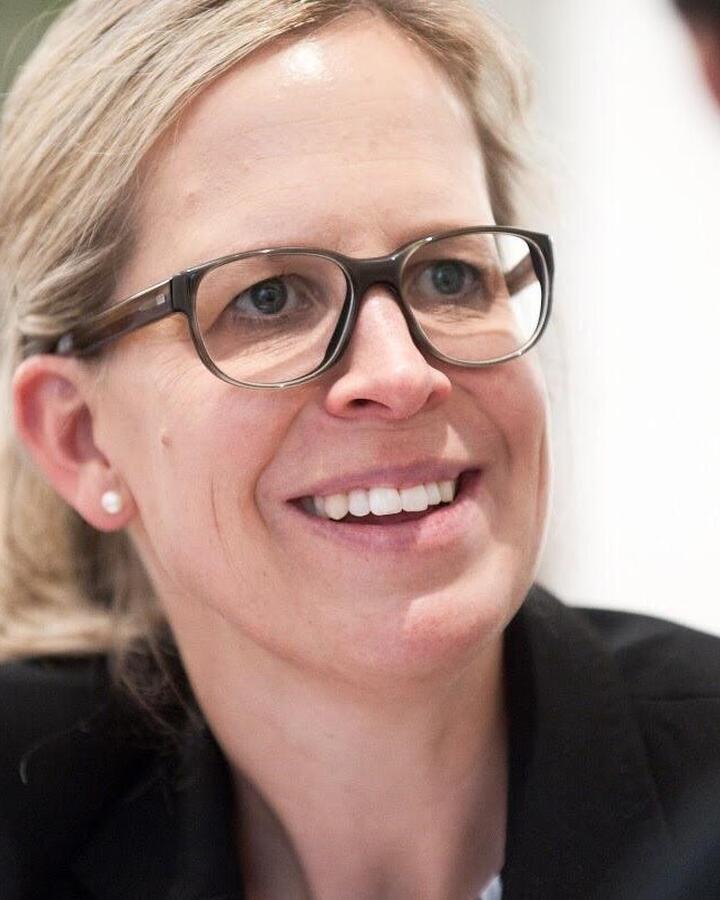 Name: Julia Haberbosch
Role: Senior Manager Organizational Development at Vetter Pharma-Fertigung GmbH & Co. KG. Previously, internal trainer, then in OD with a focus on digital transformation and strategy work as well as leadership development from an organizational perspective.
What I appreciate about my work is: ...working in a successful organization that is growing and is highly dynamic. Especially during a pandemic, it is very exciting for me to work in a pharmaceutical company.
What was your objective for the change process – in one sentence? 
The big issue at the time was digitalization. We had to tackle quite a lot of challenges at once. From quality management to production and IT – everything was affected. 
Yet, Vetter had always done well in each department or "silo." We are world champions there. It's also going well at the interfaces, but when projects or processes start going sideways, that's when things get challenging. That's why we needed dwarfs and Giants.
Which role did dwarfs and Giants play in the transformation?
At the time, there was no organizational development. Therefore, it was our concern to organize and coordinate this huge program. dwarfs and Giants was responsible for organizing the collaboration across silo boundaries. They were the experts on this process.
It quickly became clear: We need an internal transformation team to work with the consultants.
The goal was to gradually hand over the process authority to the transformation team.
Working with dwarfs and Giants was really rewarding. Matthias Lang was a great support for us. Having an external perspective was extremely good for us to keep creating new impulses for the project. Working at eye level was really great. We learned a lot methodically, and personally it was always very pleasant.
What have been the phases of your transformation journey so far?
First, building up a cross-functional project structure at the control and execution level. Once the projects got off the ground, there was mainly troubleshooting and handling concrete inquiries. The transformation team was made up of people from the affected areas and the internal departments with process responsibility (HR, IT). We worked in this setup for about a year.
After that, the idea came up to transform the project structure into an internal organizational development. dwarfs and Giants also accompanied the creation of this department, including the role clarity that is needed to be successful in the individual projects.
Especially important were the many different dialogue formats, in which we exchanged ideas across departments. This was always helpful, goal-oriented, and solved the problems we had. It was particularly exciting when our leadership understood that it really depended on them, and that digitalization is not just a project to be handled by others.
What was a highlight for you?
On the one hand, the kick-off event, where we first presented the project. And on the other hand, the decision that we need an internal organizational development. Due to the good guidance by dwarfs and Giants, we have indeed become quite competent and well in demand by now.
What was really exhausting from time to time, and how did you cope with the situation?
We got stuck whenever leadership was not visible and decisions were not made. One solution was to create open dialogue formats and get the right people to the table. We also worked hard on beliefs and patterns concerning our leadership culture, for that's where the strongest resistance to change was.
Once there was an announcement from our management, "Now we all need to get around the table, and nobody is to leave until white smoke arises." They did invite us to facilitate the conversation as a transformation team. We were pretty well prepared for this process. During the meeting, however, it quickly became clear that management did not want to or could not relinquish responsibility for the course of the conversation. We experienced that as a setback.
We then stayed on the topic, reflected internally, merged perspectives, and tried to design our next interventions with an informed view of the systemic causes. This is not always easy in a culture that regards people as the cause of problems. Staying on track and doing consistent work was certainly a formula for success. We kept switching to the meta level to analyze the situation and to take the next step. That was crucial to success.
How would you describe what has changed? 
Our strong silos are slowly opening up. 
We are growing into constructively handling mistakes: Problems have become visible and workable more quickly.
More openness with each other. We're no longer looking for culprits but are trying to learn together.
I've definitely learned that less is more, and that selective interventions are good for things to develop in the organization in the meantime.
Can you give a concrete example from your daily work that is symbolic of that?
Five years ago it would not have been possible to take part in a management meeting as a process facilitator – now it goes without saying. We are now valued partners at eye level. Even an open exchange across areas in retrospectives have become possible now, and also looking at opportunities for improvement.
Imagine the transformation were a book or a movie – what would be the title?
"PAW Patrol" – When things are on fire somewhere, we are always important as internal organizational development catalysts.
What advice would you give to an organization embarking on such a journey?
I find the tandem of internal and external participants very helpful for organizational development issues. It is important to set up a good interdisciplinary transformation team consisting of people who are motivated intrinsically and enjoy advancing the organization.
You also need to really closely exchange with management on the relational and individual level. "What impact has our project on all of us?" This is something that management also has to keep a wary eye on. And, continue clarifying the case for action from management, and communicate, communicate, communicate.
Projects like these need a really long breath. Setbacks are part of the experience. Now, after five years, we are enjoying the first real successes. 
It is really fascinating to see what emerges and changes along the way. Some shifts happen completely unplanned because at the beginning, you just don't know what you are going to need: So this, really, is a pitch for an iterative approach.