Non-profit Org with a Culture of Trust
Cultural patterns cannot be simply changed by applying a method.
What is the purpose of your organization?
Jugend am Werk Steiermark GmbH (JAW) is one of the leading providers of social services in Styria. Our services aim at children, adolescents and adults with a need for support in professional, social and personal life issues. As a non-profit enterprise, our organization does not pursue profit motives.
Success should be measured in terms of how satisfied the people are who use our services: To what extent their realities of life have improved in terms of equal opportunities.
We are working with taxpayers' money. Therefore, it is our obligation to ensure that the funds that come to us through our contractors are put to the best possible use. In concrete terms: The services offered should be as suitable as possible, and adaptable to individual needs. Our customers are treated with respect, strengthened in their self-reliance, and "empowered" wherever possible. But this also means trying to enforce the necessary framework conditions with our contractors. And, naturally, this requires optimal working conditions for our employees.
We are a social service provider working hard on both advancing our services and improving our organization. The organization is large but also fast and flexible. Our partners can rely on us to do our best to be a fair partner.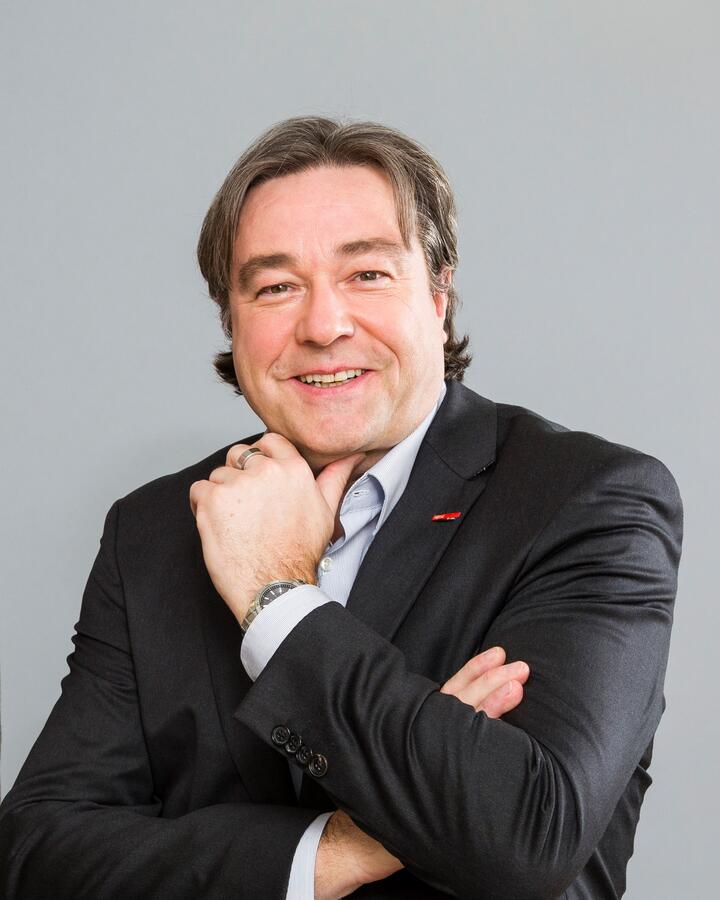 Name: Walerich Berger
Rolle: Managing director of  Jugend am Werk Steiermark GmbH (since 2009)
Particularly important to me: The joint struggle for solutions, having debates, focusing on the future rather than remaining stuck in "That can't be done." And focusing on the question: "How can we put what we have to good use?"
What was your objective for the change process – in one sentence?
Forming a joint organization out of many individual "Gaulic villages" (as in the famous stories of Asterix & Obelix), detecting where we have settled into routines, and making conscious decisions – What do we want to leave behind? Where are we stuck in patterns that we should overcome?
Which role did dwarfs and Giants play in the transformation?
Their main objective was certainly to draw our attention to where pattern breaks were necessary. This was not always pleasant but very helpful. We wanted to use the qualities of dwarfs and Giants, which we had already experienced in other contexts. dwarfs and Giants is a serious partner willing to confront us where necessary to help us achieve our goals. We relied strongly on that.
What have been the phases of your transformation journey so far?
When we started, we were like a conglomeration of "Gaulic villages" with all these individual facilities, with a tremendous culture of mistrust. So the decisive factor here was to master the shift to a culture of trust. Initially, we worked on centralization and alignment, our motto being: We are on this highway together. It is okay to speed up or to slow down or to stop sometimes - as long as we are staying on the road, within the defined frame.
In the second phase, we then began to decentralize: We consequently distributed power, decision-making authority and resources to the individual facilities. We now only set the basic framework in management – the only rule is: "No ghost-driving!"
We have also established the vision as a common point of reference. This vision is always present in our daily business. Additionally, we have formulated a mission statement together in a participatory process – a common understanding of where we want to go. This enables us today to really live distributed authority and autonomy in collaboration.
A central question on our way was, "How can we be a learning organization?" The concrete issues were:
How do we give and receive feedback?
How can we foster cooperation between the overall management of our organization and the individual facilities
Which patterns do we need to break in order to be successful?
We also worked intensively on our culture of trust. In cooperation with our facilities, this means to fill these "guiding principles" with life: 
We won't bite your heads off if something goes wrong.
2 There's a lot we don't know.
3 Share with us what you have learned!
We took very concrete steps in management, such as admitting and sharing our own mistakes so others can learn from them. We also entered into a dialogue with all facilities: What's going well? What do we need to improve? Simply put: Communicate a lot and be quick to communicate if need be, clearly admit what you don't know. This also helped us get through the pandemic.
Could you share one of your highlights in this process?
To learn how to give and receive feedback, we worked with Clear the Air. We learned what kind of conflict culture emerges from this approach and this attitude, and where we need other changes in the organization. Cultural patterns cannot be simply changed by applying a method.
Cultural patterns cannot be simply changed by applying a method.
What was really exhausting from time to time, and how did you cope with the situation?
The high standards we put on ourselves are really exhausting. With this attitude, the question arises again and again, "How much responsibility should each person carry?"
It was often difficult for us to bring clarity to processes. Who is responsible for what, how are customers and suppliers relating to each other? Very valuable was the question, "What do we actually want to achieve with this process?" The dance between interpretations, attributions and light bulb moments in the struggle for clarity was really tough at times, but we know by now that this struggle is all part of the game.
For example, we had a serious problem with employee turnover. Today, things are different. We keep our employees and have comparatively few difficulties in finding good employees, especially in the current shortage of skilled workers. It is well known that we offer good conditions to our teams, like participation, development opportunities, and a serious commitment to working well together.
What advice would you give to an organization embarking on such a journey?
Try to find good guides for your journey! Our transformation process would not have been possible without an external view and professional expertise. Someone who is not only providing consulting services but really consequently holding up a mirror to you and also addressing unpleasant issues.