"We want to reach the next level of self-organization."
What is the purpose of your organization?
We are eprimo, the energy game changer. Being Germany's green energy discounter, we are the provider with the strongest customer base for green electricity and green gas, and we are bringing the energy transition to over 1.7 million households. The purpose of our company is: "We're creating a livable future with green energy for everyone, simple, individual and affordable." We truly live this mission internally and externally. We experience transformation and change as an ongoing process. So we are flexible and adaptable. We want to speed up the energy transition by introducing new products. Therefore, we are well suited for iterative approaches. I would describe our organization as human, happy, green, and with a high affinity for change.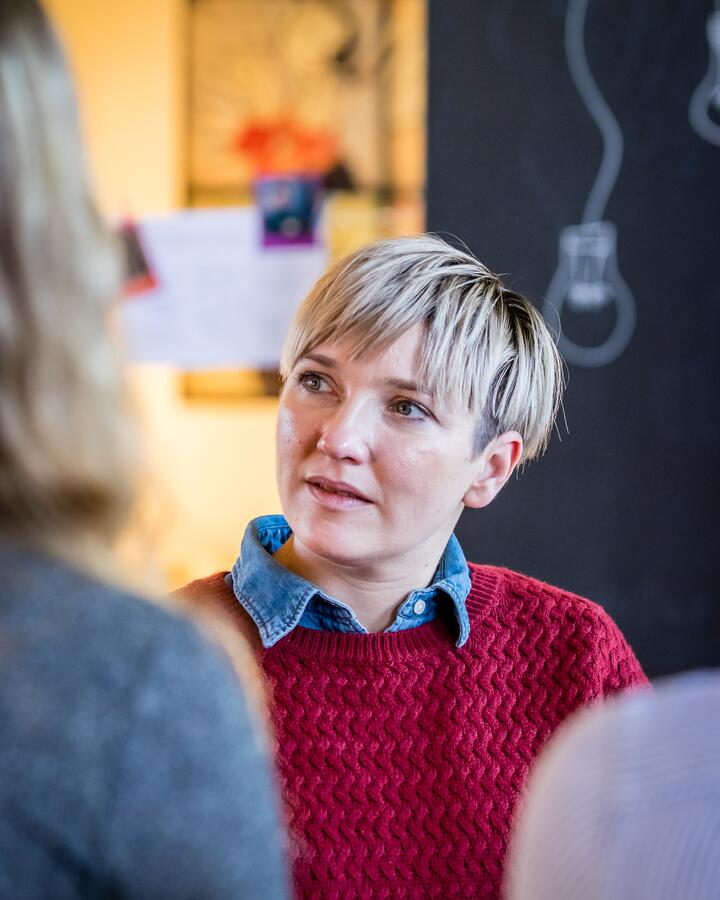 Name: Ivana Federmeyer
Role: Change manager (transformation master, agile master in the leadership team, product owner) at eprimo GmbH
Our organization belongs to all of us. This is a completely new understanding. There are no bystanders. We would have to make a real effort if we didn't want to shape it.
What was your objective for the change process – in one sentence?
"Cover the roof as long as the sun is shining" – that was our motto. We wanted to become more innovative, more efficient, and faster. Right from the start of the transformation process, our business model was running great. We were established and wanted to put that on sustainable footing. We are now much better prepared for major changes and disruptions than at the beginning of the journey. 
Which role did dwarfs and Giants play in the transformation?
For us, dwarfs and Giants was sharing in-depth expertise, providing perspectives and ideas, and often, on a personal level, supporting us on this journey. Thanks to dwarfs and Giants we gained a wide range of knowledge (systemic organizational development, agile methods, etc.), but we always retained sovereignty over the process. I never had the feeling that we would not be able to master our challenges without consulting, but always knew that working together with them would be an increase in value.
Currently, we are working with a combination of internal and external teams. These tandems generate a lot of power and impact within the organization.
What have been the phases of your transformation journey so far?
Phase 0: First pilot phase in customer service.
Phase 1: Rollout to an entire agile unit. Role-based organizing, separation of disciplinary and technical management – team and product customizations were changed. Everything was fixed in a company agreement. Formation of an internal and interdisciplinary transformation team for the implementation and management of the change process.
Since then, the classical change curve: The transition to new structures and processes was a challenge as well as a learning journey for everyone.
Phase 2: We put together two end-to-end teams, working cross-functional in a role-based manner. We also set up a responsibility matrix for the first time, and clearly defined who has which authorities. The teams are designed as "Channel Teams", which means that they are responsible for everything from the first contact with customers to existing customer care, including website interfaces. 
Phase 3: The design of this phase was fed by the findings of the previous experiences. It became clear from a retro phase that we needed to assign even more authority to the teams (budgets, IT development). We want to reach the next level of self-organization.
What were 2-3 most crucial turning points in the transformation process?
A turning point was the launch of phase 1, rolling out the new organizational model, both on a personal and organizational level. Putting together the transformation team was really fantastic as well as the successes we celebrated. We have initiated changes taking place in many sectors of our organization – far beyond our direct sphere of influence. With this transformation team, we can unleash the full impact of this change on the organization.
The decision to get more people excited about the topic of leadership was really important. Understanding leadership not as linked to people but to roles makes a big difference. We are talking to management on equal terms, and we are developing our understanding of leadership together. This is really inspiring and quite a difference to the beginning of the journey.
What was the greatest highlight for you?
Our last leadership offsite workshop was really terrific. We succeeded in having great conversations about the topic of "leadership @ eprimo." We developed leadership principles together and had the feeling that something great will emerge at eprimo when we make room for it. 
After phase 2 was finished, we had a big retrospective with all interfaces and roles involved. The feedback there was incredible. Hearing how the new teams were seen from outside and inside showed us that the transformation journey is paying off. And the product developed there was really good.
The next:eprimo program which dwarfs and Giants co-developed with us was truly great. Here, knowledge transfer and learning for the participants succeeded really well. I was present at the final presentation and strongly sensed how much joy and enthusiasm the participants had developed.
What was really exhausting from time to time, and how did you cope with the situation?
The greatest effort was certainly at the beginning when it came to introducing and living both new structures and new processes and roles. Pulling ourselves out of this situation with the help of a backlog, and working through one work package after the other was really hard at times. No matter where we started, we quickly realized that all topics were interrelated: production interfaces, clear responsibilities, competence development – we had to rethink everywhere. We solved it by taking one step at a time.
How would you describe what has changed? 
We understand our organization as a product, and that feels like we all want to create this product together. Our organization belongs to all of us. This is a completely new understanding. There are no bystanders. We would have to make a real effort if we didn't want to shape it.
Our communication with each other has also improved. The hurdles between the departments have been removed. We all cooperate where necessary, and we have become a team of 170 people. That meant cooperation from all sides, but it was worth it.
The role of "Agile Master" has become an integral part of our daily work.
Can you give a concrete example from your daily work that is symbolic of that?
Check-ins were torture for us at the beginning of the journey. When I happen to forget them once in a while, the teams actively ask for them because we have ritualized taking care of each other.
What learning experiences supported you in your role as change manager?
All these challenges that are implied in such a change involve a lot of "learning by doing." I had already participated in the first learning lab next:pedition in 2017, which provided me with the essential skills for the process. On the one hand – and this concerns me as a human being – perceiving myself as Ivana in a changing system. But also seeing myself as a member of the organization, as an agent in the change process. On the other hand, the different formats, working documents, hypotheses, etc., which I am still using today. We worked intensively on the next:land principles and adopted them for eprimo. They are now the rationale underlying all internal programs.
Last but not least, the group itself, the community of equal minded-people, was very supportive, including all struggles we had. I very much liked the fact that tensions within the working groups were not resolved from the outside, but that we had to deal with them ourselves and really confront each other in these conflicts. After all, we don't live "out there" in a perfect world with perfect people with whom you always get along well. This was quite essential in order to learn this aspect of self-organization. I am still very close with some of the participants. And of course, the great places and all the inspiring companies we visited as part of the learning Journey.
How do you deal with the "struggles" you mentioned?
We realized – and that was one of the crucial points – that when the structures have already changed in a transformation process, it is time to continue working on the culture and the interpersonal relationships. That's where formats such as Clear the Air become indispensable. We've had a few Clear the Air meetings to clarify relationships within the transformation team and also have eprimo members who are currently being trained as Clear the Air Facilitators in order to bring this method more broadly into our organization.
Imagine the transformation were a book or a movie – what would be the title?
"The Neverending Story" – with all its facets: the fantastic, the exciting, the adventurous. I guess the journey will never be over.
What advice would you give to an organization embarking on such a journey?
Bring a lot of patience and resilience.
Don't give up, even if the impulse is strong.
The willingness to deal with oneself as an internal change companion is critical to success. Otherwise we'd be too much in resonance with whatever challenges the organizational members are currently going through and wouldn't be clear and creative anymore.
Seek appreciation and understanding of all perspectives, and conscientiously look for dialogue.