Self-Organization with Holacracy
We wanted to establish a self-learning system.
What is the purpose of your organization?
ONTEC AG is an IT service provider, founded in 2001 as an independent company. At the company headquarters in Vienna, 60 employees have been working on the basis of Holacracy since May 2018. Our focus is on digital transformation and managed IT services for business-critical processes, with artificial intelligence playing a steadily growing role in recent years.
The purpose of ONTEC is: We want to create enthusiasm! An environment that helps employees develop inspiring solutions for customers, because we believe that enthusiastic employees lead to enthusiastic customers.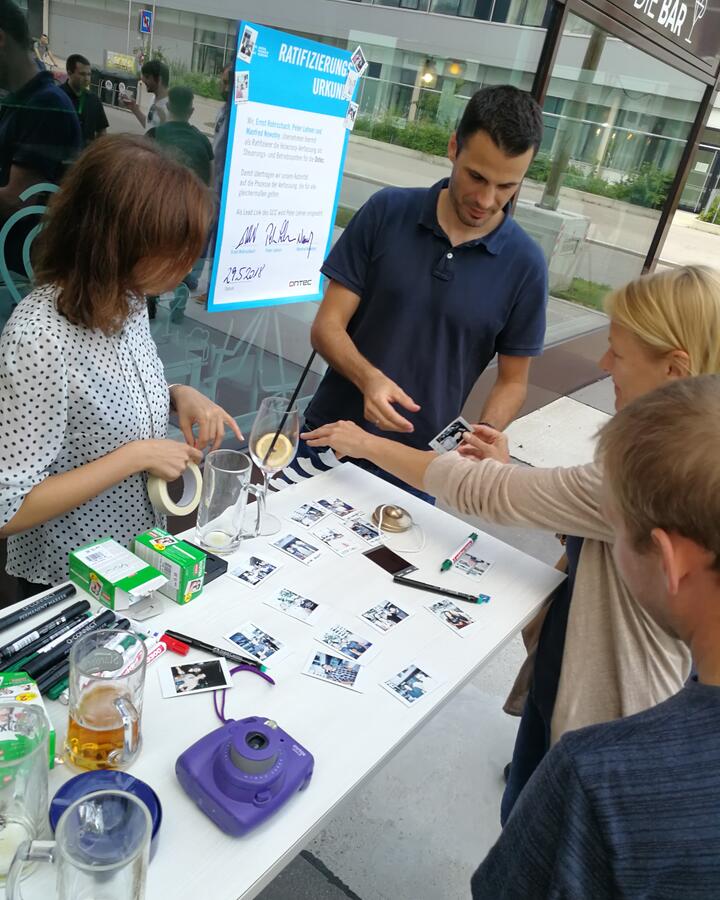 Name: Daniel Sieder
Role: Executive chairman of ONTEC AG since January, 1, 2021, previously business unit manager of the delivery unit and Holacracy implementation lead (team of two)
Particularly important to me is: good teamwork – people should find the courage to develop their full potential and to identify with their work, as well as make decisions on their own accountability within the scope of what they think they are capable of.
What was your motivation to implement Holacracy? 
We wanted to establish a self-learning system – an agile organizational model that is fit for the future. The speed of change of organizations is constantly increasing. For this purpose, we need an adaptive system. Decisions should no longer be made only in an "ivory tower" but by people with the appropriate competence. Otherwise we are leaving out a lot of potential. Additionally, distributed authority simply leads to better decisions. 
We tried out quite a few things in the past, and we wanted to bring stability to this search movement and thereby remain efficient in constant change.
What were the most important turning points in the transformation process?
Initially, we tried to introduce Holacracy light without consultation. We quickly realized that we are leaving too much potential untapped. That's when we decided: We need to get serious! In-house training was extremely important – it helped us take our employees along on the journey.
We quickly realized that we are leaving too much potential untapped. That's when we decided: We need to get serious!
It was pretty cool when, for the first time, a real dynamic in our work on the organization developed. We established new circles, for example reorganized the software delivery circles. Until then, they had been grouped in one circle per big customer and a collecting circle for smaller customers. We then realized that this structure does not really support the exchange and thus the learning process between projects in the software area very well. Therefore, we introduced a coordination circle there. This works great and relieves the general company circle.
What role did dwarfs and Giants play in the transformation?
In the beginning, it was very much a matter of preparing the field – preparing the ground with our management and letting decisions mature for a while by clarifying ambiguities and questions. Then, building Holacracy competencies through "practitioner trainings" gained center stage. That was really important. Otherwise, we would not have trusted ourselves with the process. By having this support through training and consulting, we were able to prevent a lot of friction – most of all in crucial phrases – and be more efficient in its adoption. The frustration that usually arises with change was much lower, so we lost fewer people.
How would you describe the changes that really matter until today? 
Distributed responsibility: There are employees who dare to make decisions within their areas of competence without consultation.
Rapid adaptation of the organization: We are more flexible when changes are needed – and the process for doing so is highly efficient and transparent.
Transparent decision-making processes: It is absolutely clear who decides what. Previously, we didn't have any real organization at all. There was only the boss, and the boss of the boss. 
The formalization of participation.
Can you describe how you experience these changes in everyday situations?
We are extremely adaptable to new challenges. For example, working from home due to the pandemic just felt like flipping a switch. It was an almost frictionless change because we are used to doing that.
Also, in the past, our management meetings took forever. We needed 4-5 hours, and often didn't make a single decision. Today, we cover 25 agenda items in 60 minutes and still find the time to crack stupid jokes.
Decisions are not "sent up" anymore. Everything that was relevant around security issues used to end up on my desk as a decision proposal. Today, we have a CIO who makes decisions against my will. This is exactly where we wanted to go, even though it is hard at times to experience that as a former executive. 
I had always been strongly opposed to employees being allowed to choose their own operating system. Now (as of the end of 2021), we are just having a discussion about whether to introduce the third system. But unlike in the past, we now master such debates together, and I cannot block the process anymore. I had to clear some emotional hurdles, but that's all part of the game.
Was there anything really exhausting for you? What would you do differently today?
We had some governance meetings that remained very theoretical, and where we had debates on principles. It took some time for the agile mindset to trickle through to everyone. Practicing and "shadowing" (external monitoring and joint reflecting on meetings) was a good intervention.
It was exhausting to endure that some skeptical people thought that everything was very bureaucratic and inefficient. This was believed above all by people who did not get involved. We have shown a pretty long breath in this respect. Now, I frequently hear from our employees, "Well, just make a suggestion!"
Back then, we also tried to save some money by training only half of our employees in the "Holacracy Practitioner Training." The idea was that the trained half would "carry" the other half. This has created an imbalance which led to its own dynamics. 
What advice would you give to an organization embarking on such a journey?
Try it out yourself in a lab environment so you understand how important professional guidance is. You just won't get the practice and the training for a company-wide adoption right on your own. You have to realize that this is a journey. After six months, nothing has been achieved yet. The practice constantly needs to be refined and honed to truly lift the potential. Implementation needs commitment and attention. It took us nearly three years to achieve the effect we wanted to achieve.
For us, it is and remains a journey, and even skeptics are now saying, "It's working well and efficiently."